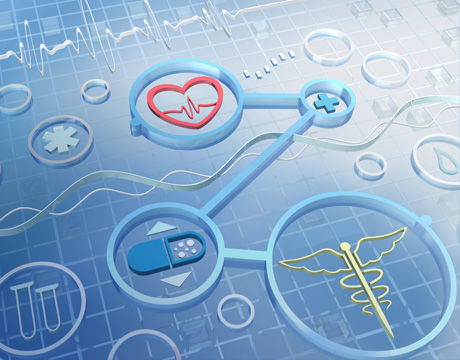 The year 2012 and 2013 were very significant years in the history of medical and health technology. Mobile health consultancy firm Research2Guidance reported that there were over 100,000 health applications in 62 app stores across different platforms, with the top 10 health apps recording over 4 million downloads each day. This year has even bigger numbers and greater surprises. If you are not up to date with the development in the mobile health niche, here are 5 of the most intriguing technology trends that should change how we live and get treated.
5. 3D Printed Biological Materials
The widespread use of 3D printing technology has featured in the news for months now, with guns and models topping the list of the most printed items. Early this year, there has been an explosion of reports on the use of 3D printing to produce replacement human parts including skulls, blood vessels, heart tissues, bones and other organs. As this technology is improved, we will see a lot more uses in the medical industry before this year comes to a close.
4. Augmented Nutrition
In this age of fashion and appearance, eating is no longer a matter of survival but fitness. This is why the good doctors have partnered with developers to come up with award-winning wearable devices that help individuals keep tabs of what they eat, how much they eat and what they need to eat. Wearable devices such as the AIRO wristband are a perfect example of how augmented our future really is and how technology will guide us eat and live better.
3. Hybrid Operating Rooms
Besides new technologies emerging in the industry, there are also ways that engineers have managed to set up existing systems to make them work more efficiently, an example being hybrid operating rooms medical establishments are now embracing. Because of the complexities of surgical procedures, your surgeon will probably be a computer the next time you are on the operating table. To find out how this works, find out more about how the best gastric bypass revision surgeon uses technology.
2. Microchips Modeling Clinical Trials
There are currently tests being carried out to improve, streamline and even transform the entire medical and health industry, and microchips appear to be the dominant technology. Microchip modeling clinical trials present an opportunity for experts to innovate how trials are conducted and hopefully in the future will replace animal trials with it. Because the microchips are extremely tiny, they can be used to re-construct interfaces between separated organs and capillaries through a process comparable to microfabrication.
1. Digestible Sensors
Since it was approved in 2011, a digestible sensor has played a significant role in improving healthcare by providing the professionals in the industry a channel to understand their patients better. A digestible sensor is ingested by a patient so that it can transmit information from the body for the professionals to use in diagnosis and treatments.